WHERE THE ANIMALS COME FROM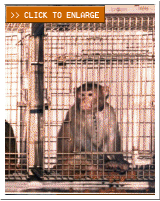 Over 50,000 primates die in U.S. laboratories ever year.1 Some of these are bred in captivity; others are captured in the jungles of Africa and Southeast Asia. Wild-caught primates are imported by commercial dealers. These individuals "buy" trapped animals, box them in small crates with little to no food or water, and cargo ship them around the world. Many die in the process.2,3,4
In her book, "The Monkey Wars," author Deborah Blum discusses another impact of the primate trade:
"The numbers, everyone agrees, underestimate the actual take from the forest. By a lot. Trappers tend to seek out young animals; as they are easier to handle, smaller, easier to ship. That means trappers often have to kill parent monkeys to get to the young. They shoot the mothers out of the trees and grab the babies after they fall. They pry the youngsters away. The monkeys are carried away in cages, packing into shipping boxes, air-freighted to industrial countries seeking them for research use." 5
Blum states that for every one monkey who arrives alive at a laboratory, "The typical conservative estimate is 5 to 10 monkeys dead." 6
Vivisection laboratories also commonly buy animals from breeders. Some breeders offer animals bred to suffer from certain diseases, such as Charles River Laboratory's 'Stroke-Prone Rats.' 7 For animals born at these facilities, their entire lives--from birth to death--will be spent in barren metal cages. They will never have the chance to feel the grass beneath their feet or the sun on their backs.
The animal testing industry also obtains animals from shelters. This is called "pound seizure" and is promoted by many vivisection advocates. These animals, usually dogs and cats, are either lost or have been abandoned. There is no federal law regulating pound seizure. Thirteen states have banned this practice. Three states, Minnesota, Oklahoma, and Utah actually legally require their shelters to provide animals to vivisection laboratories.8,9,10
Animals are also bought from individuals known as Class B dealers. These dealers buy animals for the purpose of selling them to laboratories. Class B dealers acquire animals from random sources, such as answering "Free to Good Home" ads, picking up strays and operating animal auctions, in which they arrange and negotiate animal sales and transport. Class B dealers have also be caught stealing pet dogs from peoples' yards to sell to laboratories.11,12
---
1. United States Department of Agriculture, Animal and Plant Health Inspection Service, "Annual Report of Enforcement," (2004).
2. "A Study of Behavioral Responses of Non-human Primates to Air Transport and Rehousing," Laboratory Animals 38 (2004): 119-132.
3. 5. British Union Against Vivisection, "Primates in Transit," (June 2004).
4. Mark J. Prescott and Maggy Jennings, Research Animals Department, RSPCA, "Ethical and Welfare Implications of the Acquisition and Transport of Non-human Primates for Use in Research and Testing," (2004).
5. Deborah Blum, The Monkey Wars (Oxford: Oxford University Press, 1994) 249.
6. Blum, 250.
7. Charles River Laboratories, "Charles River Laboratories Research Models and Services," (2006).
8. Minnesota Agriculture, Chapter 35, Animal Health, Minn. Stat. § 35.71 (2001) Unclaimed & Unredeemed Animals Impounded; Scientific Use or Other Disposition, subd.3.
9. Oklahoma Title 4, Animals, Chapter 13, Use of Unclaimed Animals for Scientific Investigation and Education. 4 Okl. St. § 394 (2002).
10. Utah Title 26, Utah Health Code, Chapter 26, Experimental Animals, Utah Code Ann. § 26-26 3&4 (2002)
11. Animal Welfare Institute, "The Case Against Random Source Dogs and Cats," (August 1996).
12. The American Psychological Society, "Animal Research In Jeopardy," (September 2005).